Hello friends,
We are here today with our new color challenge for all our Zuri lovers!  You can create anything, the only requirements are to use a Zuri Mold and at least three of  colors from the color palette. But all four colors now that would be amazing! Also you can use White, Black and Metallic tone (Gold, Sliver, Copper, or Brass) as well.
We have put together a little mood board to help inspire your creative process! We hope you will find here something in this mood board that inspires you!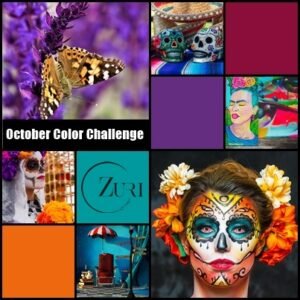 To participate in this challenge please Hop over to the Design with Zuri Facebook Group (Here) and add your project to the "October Challenge Album" also we love any and all social media love that you can give us so if you are sharing your project anywhere else please use: the hashtag #Zurichallenge
The winner will be Announced early in November and will receive a mold of their choice.
If needed you can also  submit your entries via email sent to support@zuri-inc.com  But please also post them in the group album.
Good luck to you all!
You have until the End of October to Enter so get busy!